Kate Landers has my full support. There is really no other choice.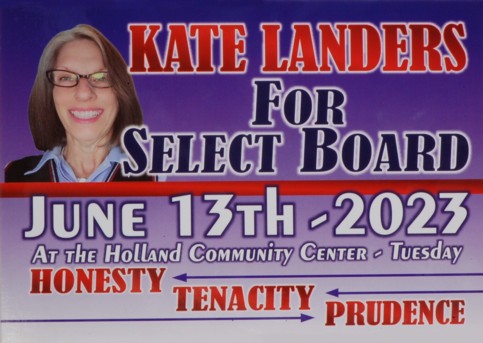 Vote Kate Landers!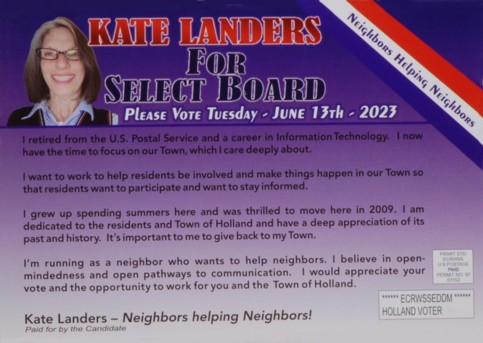 Please don't forget to vote!
Peter Frei
Posted on 09 Jun 2023, 20:37 - Category: Town Politics
2 Comments - Edit - Delete
To register for the Municipality Vunerability Workshop at the Holland Community Center, at 40 Brimfield Road, Holland, MA 01511, on September 10, from 9:00Am till 5:00Pm,
click here!
click here!
Breakfast and Lunch will be provided.
Posted on 22 Aug 2022, 16:43 - Category: Town Politics
Leave a comment - Edit - Delete
What ever your interest may be, whether you live in one of the dwellings on the south-basin of Hamilton Reservoir which was flooded during the flood of 2005, whether you realize that both causeways could be flooded and impassable during another extrem weather situation again, or whether you simply would like to have an opportunity to cruse from one basin to the other side of the cause-way with your boat or canoe, all this could be accomplished if the community gets behind a proposal unanimously endorsed by the Planning Board.
And again ... no funding by the town is necessary to achieve all this!
To read this extensive proposal explaining everything,
click here!
As part of the MVP grant process, the community is mandated to hold a workshop in conformance to the
Municipal Vulnerability Preparedness (MVP) Program Core Principles.
Paragraph 5. provides:
Conducting robust community engagement:
All Action Grant projects are required to submit a Public Involvement and Community Engagement Plan as part of the application. More guidance on these requirements can be found
here.
Tips for conducting virtual and remote engagement can be found
here.
The Town already received a Planning Grant to work towards the Action Grant. This process requires a workshop with community involvement.
This workshop will be taking place on Saturday September 10, (*) at 9:00 AM at the Community Center at 40 Brimfield Rd, Holland MA.
PLEASE ATTEND !
*Originally the workshop was scheduled for August 13th but the date was changed and I was not informed by the town administrator Stacy Stout even so I´m one of the "core members" of this program. Stacy Stout was also suppose to get a "landing-website" up on the town´s website beginning of July as discussed during the last meeting on June 29th by the core members informing the people. As of now (August 5.) there is nothing up on the town´s website ... Serving on the Planning Board for more than two years by now, I do get insight of the horrendous disfunction at the town hall. The worst town official in recent history, Jennifer Mott, the former twon clerk, is gone, thank god! And with her Bettina Schmidt, one of the former member's of the Board of Selectmen, I thank good here too! I will write more about my experience being part of the town administration from now on ...
There will be individuals who do not see that having safe shelter without the constant fear of being flooded is an imperative. Compashion is running lower and lower in our society. I heard voices calling for more sand-traps/catch-basins around the reservoir; the once we already have just need to be emptied once they are filled up and more would not be needed. If there are locations where there are none, the town (Highway Department) should be able to take care of that need.
Fixing the causeway needs to be a priority.
Read also:
Shelter, a Basic Human Need; the Flood of 2005.
Holland Homes and Business´s Taken and Flooded by the Government; the Flood of 1955.
Posted on 19 Jul 2022, 16:43 - Category: Town Politics
Leave a comment - Edit - Delete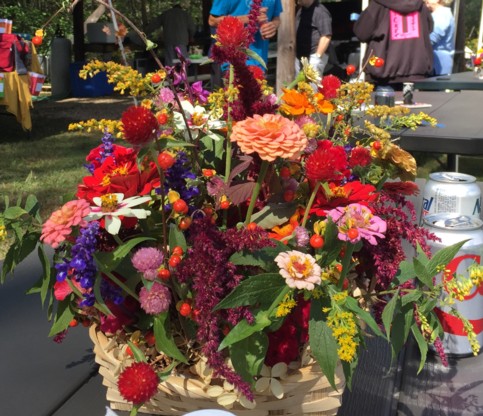 Once again as every fall, the Wales Fish & Game Club celebrated the beginning of fall with their annual Pork Roast.
An already perfect event is getting even better each year, read more»



Posted on 29 Sep 2016, 22:12 - Category: Things To Do
1 Comment - Edit - Delete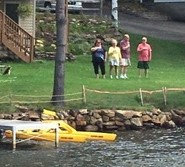 Some folks living on South Basin of Hamilton Reservoir in Holland, MA got together on Sunday 9/11 to pay tribute to those lives lost on 9/11 .. 15 years ago.
Although the weather was iffy and the winds were high, they decorated their boats and paraded around the lake to the causeway on Mashapaug Rd where they released Red, White & Blue balloons into the sky, with a moment of silence ...
remembering those lost and families left behind ... Some kids on the shore line waved their flags and others stood up to salute our American Flag. "Never forget and remember USA Free and Home of the Brave" read more»



Posted on 12 Sep 2016, 21:47 - Category: Town Common
Leave a comment - Edit - Delete
After the tie vote between the incumbent member of the Board of Selectmen Andrew Harhay and challenger Bettina Schmidt during the annual town election of June 13th, Bettina Schmidt requested timely a re-count.
This re-count took place last night at the town hall and the re-count was in favor of Bettina Schmidt who won by one vote!
Posted on 1 Jul 2016, 9:14 - Category: Town Politics
Leave a comment - Edit - Delete
Tonight, June 14th, at 18:30 hours, the Board of Selectmen conducted an emergency meeting. The reason, we failed to elect a new member for the Board of Selectmen.
Attending the emergency meeting was Larry Mandel, chairman of the Board of Selectmen ("BOS"), Andrew Harhay, incumbent member of the BOS, Bettina Schmidt, who was announced as the winner of the election for the seat on the BOS last night by two votes, and Sharon Ashleigh, the town clerk.
During the emergency meeting, Sharon Ashleigh explained how it came to be that there is now a tie where there was a winner last might. Sharon explained that five individuals voted on a provisional ballot. Provisional ballots are created by individuals who's name does not appear on the cross-off list (list of all the registered voters) but which insist that they are registered voters. Such provisional ballots are not run thorough the voting machine as their claim to be registered voter first needs to be verified by the town clerk. Hence, these votes were not included in the count published last night.
Sharon, "Paula wanted to set up tables and I needed to get out of there (the Community Center) last night," and, "at eight o´clock I had other things on my mind and forgot about the provisional votes.."
Early today, Sharon checked the five individuals voting status and determined that one was not a registered voter, two had registered too late, and the last two were registered voters but had moved within the town. This the reason why the two names were missing on the list of registered voters. She apologized for this oversight to the two candidates.
The question was then what to do about the tie. There are not many options:
Either candidate or both could ask for a recount;
either one could withdraw their candidacy; or
the town will have to organize another caucus followed by a special election.
Either candidate has 10 days to request a recount. Depending on the outcome, the recount will establish a winner, or, the town will organize a special election.
Peter Frei.
Posted on 14 Jun 2016, 19:51 - Category: Town Politics
2 Comments - Edit - Delete
A total of 311 voters made the annual trip to the Holland Community Center to exercise their constitutional right to participate in forming the government of their community. (Last year the count was 465.)
The annual town election took place at the Community Center for the second time,
read more»
Posted on 13 Jun 2016, 22:53 - Category: Town Politics
3 Comments - Edit - Delete
I was going to publish the results here as usual...
Sharon Ashley, our town clerk, refused to give me a print-out and added, The results will be published on the town's website.
How about those people who do not have a computer? It seems to me that they don't want you, the reader of the Holland Blog to have it first. I tried, sorry! Ask your self the question, how much of an effort would it be to tape a print-out of the results at the door to the town hall as they always did?
So much I heard from an informed source, Bill Hardy will keep the job he had for years, moderator (thank god! Steven Anderstrom did not get his way.) Harhey did not make it either (he lost by two votes!) Bettina Schmidt is our new member of the Board of Selectmen, congratulations! Scotty defeated Richard Polverari.
Peter Frei
Posted on 13 Jun 2016, 20:59 - Category: Town Politics
2 Comments - Edit - Delete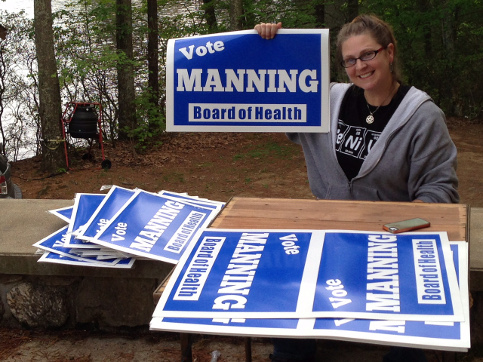 At the time I prepared my campaign signs in June of 2014, I had no idea that serving the community with integrity would lead to me being recalled based on lies by a small group of corrupt disgruntled town officials,
read more»
Posted on 4 Aug 2015, 21:37 - Category: Town Politics
3 Comments - Edit - Delete


There is a lot going on in our community, do you feel like sharing any with the readers of the Holland Blog?
Do you have any questions or suggestions? Comment about anything that is amusing you or about anything that is bothering you, but do it in a civilized manner! I will delete obvious lies and offensive comments. To read previous comments under this category, click on "Speak Out Holland" on the left of this blog under the heading "Categories."
Peter Frei
Posted on 6 Jul 2015, 08:35 - Category: Speak Out Holland
6 Comments - Edit - Delete
Pages: [1] [2] [3] [4] [5] [6] [7] [8] [9] [10] [11] [12] [13] [14] [15] ...