The video is about an Ellen DeGeneres dare to dance behind people and how that went down with the NYPD's finest:
If you run a LINUX platform, the video is at: http://youtu.be/6sbCzXQsVoQ
Posted on 31 Dec 2014, 09:45 - Category: The Town Common
Leave a comment - Edit - Delete
(Rain or shine!)
Meet at the Canoe launch on Pond Bridge Rd.
A Bike Mechanic from Bicycle Concepts, Sturbridge, will be at the trail head at 9:30 to do FREE safety checks & minor adjustments.
The ride is from 10:00 - 12:00 and is 10 miles on flat terrain with options for a shorter ride. It is mostly on trails, though a small part is on little-traveled public roads. Helmets required
Great event for the whole family!
Find us online at:
http://town.holland.ma.us/Pages/HollandMA_Trail
or
http://www.facebook.com/HollandTrailsCommittee
Sponsored by the Holland Trails Committee, The Brimfield Trail Association, and The Last Green Valley.
Posted on 08 Oct 2014, 11:15 - Category: Things To Do
Leave a comment - Edit - Delete
A public meeting for all Holland residents will be held on Saturday, October 18th from 10:00am - Noon at the Community Center located at 40 Brimfield Road. The Town of Holland is writing an Open Space and Recreation Plan and we are looking for input from residents of the town. The last plan was written in 2004. With a current plan Holland would be able to receive funding from the Commonwealth of Massachusetts to purchase land for trails, recreational areas and open space.
This meeting will help identify the needs of the community and input from all residents is sought to create a comprehensive plan that addresses the kinds of open space and recreation opportunities the people of Holland would like.
Residents are also invited to fill out an online survey; to do the survey, click here!
The survey asks questions regarding the kinds of recreation people participate in, the special "sights" of Holland and what kinds of family activities people are interested in such as enjoying the lake, taking a walk, playing baseball, hunting, etc... Take the survey to help create the plan. Paper copies are available at the town hall, library and community center.
Volunteers are also needed to help write the plan. Howie Fife and Jennifer Ohop, Holland Residents are spearheading this effort.
For more information, please call Howie at 413-245-2124 or email hollandosrp@gmail.com


Posted on 28 Aug 2014, 10:37 - Category: Announcements
Leave a comment - Edit - Delete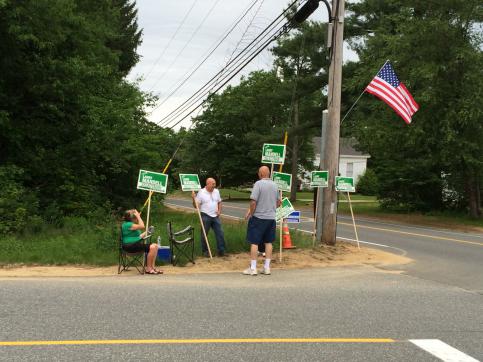 A total of 437 voters made the annual trip to the town hall to exercise their constitutional right to participate in forming the government of their community.
The big surprise this year is the failed attempt by incumbent chairman of the Board of Selectmen, James Wettlaufer, to keep his seat on the Board of Selectmen. Wettlaufer was defeated by a large margin by newcomer Larry Mandell,
read more»
Posted on 9 Jun 2014, 20:27 - Category: Town Politics
9 Comments - Edit - Delete
I learned that Heather and James Wettlaufer attended (for the first time) the annual pan cake breakfast organized by the Hamilton Reservoir Association. The Wettlaufer's showed a picture they carried on their cell phones to everybody who would listen and claimed that it would involve me or the Holland Blog. The picture shows Earl Johnson's gravestone right next to one of James Wettlaufer's campaign signs. The Wettlaufer's downloaded the picture from the facebook page with the name 01521.com. I have neither anything to do with that facebook page, neither do I have anything to do with the picture. As far as I know, the facebook page was created and is maintained by James LaMountain. I also learned today that someone allegedly pored gasoline over Earl Johnson's gravestone. I denounce actions like that in the strongest terms. The fact that a jury found Brian Johnson's behavior to be, "extreme and outrageous and beyond the bounds of decency and intolerable in a civilized society," does not give anybody the right to behave the same way towards the Johnson's. Heather and James Wettlaufer, I assume, didn't know any better and are excused as they must be under a lot of stress right now (and desperate).
Posted on 9 Jun 2014, 16:43 - Category: The Town Common
12 Comments - Edit - Delete
This is an important Election, we need every vote! Wettlaufer and his supporters who have a financial interest in him being re-elected will go to the polls guaranteed!
Please do the right thing for a better future, for a better Holland.
Peter Frei
Posted on 9 Jun 2014, 13:45 - Category: The Town Common
Leave a comment - Edit - Delete
The Holland Blog obtained invoices in the amount of
$68,540.48
Wettlaufer's BOS paid to attorney Sapirstein for unnecessary frivolous lawsuits, private lawsuits, appeals, and also defending Brian Johnson against a Criminal Harassment Prevention Order sought against him.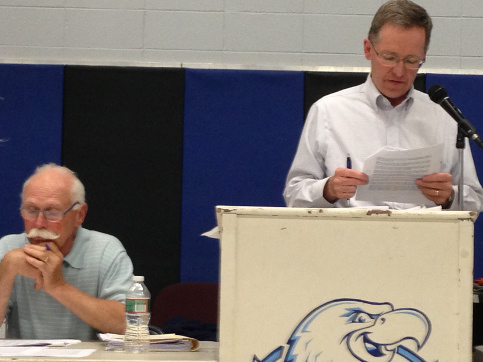 Picture: Annual town meeting, May 27, 2014. James Wettlaufer, chairman of the Board of Selectmen sitting on the left; William Hardy, moderator, standing on the right.
The invoices can be viewed by the reader, read more»


Posted on 7 Jun 2014, 23:28 - Category: The Town Common
5 Comments - Edit - Delete
Choose one, or do both!
SATURDAY, JUNE 14th
10:00 Trail Ride:
The Holland Trails Committee & Brimfield Trail Committee will be leading a Trail Ride (rain or shine). Meet at the kayak/canoe launch by the bridge at 20 Pond Bridge Road in Holland. 9:00-10:00 safety check & minor adjustments by a mechanic from Bicycle Concepts Ride: 10:00 - 12:00. About 10 miles (options for a shorter ride) mostly on trails, though a small part will be on little-traveled public roads. Conditions: flat terrain; a few rough or sandy spots, but generally very good.
Helmets required.
For info: 413 245-7745
1:00 Canoe/Kayak Paddle:
The Army Corps of Engineers will be leading a scenic paddle through wildlife habitat on the Quinebaug River. There is little current, and no portage. 
Meet at the kayak/canoe launch by the bridge at 20 Pond Bridge Road in Holland. Guided paddle: 1:00-3:00.
Boats are not provided, so you must bring your own canoe or kayak.
PDFs, personal floatation devices, are required.
Preregistration is requested by calling the Army Corps office at 508 347-3705.
Posted on 6 Jun 2014, 08:18 - Category: Things To Do
Leave a comment - Edit - Delete
Don't forget the Annual Town Meeting next Tuesday, May 27, at 7:00 p.m. sharp at the Elementary School!
There is a lot on the
Warrant
(click on "Warrant" to open and read the Warrant. If you see a word in bold/italic in the main section on this blog it is
always a link
you can click on to see the document etc.)
This might be of interest to some of you:
ARTICLE #16
proposes to raise or borrow an unspecified amount of money to yet purchase another new dump truck for the highway department;
ARTICLE #25
proposes to borrow up to $600,000 to repair the dam;
ARTICLE #34
is in response to Wettlaufer's proposed, "Vehicle Use Policy," which would allow the Highway Surveyor Brian Johnson the use of a pickup truck to take home in the same way as the fire and police chief are allowed to do;
Article #35
proposes a change to the General Bylaws which would force the Board of Selectmen to answer to the community. Longtime residents may remember that a long time ago residents were able to call-in at the end of televised meetings of the Board of Selectmen. After I published
Johnson Landgate
here on the Holland Blog, Earl Johnson, at that time one of the members of the Board of Selectmen, had difficulties to find the right answers to questions in connection with
Johnson Landgate
, and the Board decided to scratch the call-ins and get rid of the "nuisance." If the majority of the voters who attend the annual town meeting feel that it is time to reinstate the call-ins they have an opportunity to vote in favor of article #35 and it will no longer be a discretionary matter and will instead be a mandate.
The Annual Town Election will take place on Monday June 9, 2014,
from 10:00 AM to 8:00 PM at the town hall.
Peter Frei
Posted on 20 May 2014, 23:42 - Category: Legal Notices
3 Comments - Edit - Delete


We have not done this for a long time... everybody is invited to go of topic here. I will soon re-activate the Holland Blog and inform the community about ongoings this community has a right to know.
Check back soon, you will be shocked; learn about the recent embarassing improprieties of James Wettlaufer, Brian Johnson, and others. As always backed up with court documents, letters, and transcripts, to rule out misinformation.
Also, do you have any questions or suggestions? Comment about anything that is amusing you or about anything that is bothering you, but do it in a civilized manner! I will delete obvious lies and offensive comments. To read previous comments under this category, click on "Speak Out Holland" on the left of this blog under the heading "Categories."
Peter Frei
Posted on 6 May 2014, 22:55 - Category: Speak Out Holland
10 Comments - Edit - Delete
There is a Special Town Meeting for the voters of Holland on November 20th at 7:00 PM at the Elementary School. The warrant for this Special Town Meeting is 28 pages long! I hope people aren't thinking there will be time to read each article before it is voted on. First, there is way too much information in some of these articles to be able to do that, and second, don't lose sight of the fact that Special Town Meetings are all too often used by the town officials to slide things past the voters. It is easy to do when attendance is low, the audience is stacked, and no one has taken the requisite time to read and understand what they are actually being asked to vote on.
Read more»
Posted on 10 Nov 2013, 23:06 - Category: Town Politics
1 Comment - Edit - Delete
Pages: ... [2] [3] [4] [5] [6] [7] [8] [9] [10] [11] [12] [13] [14] [15] [16] [17] ...