We all remember that song as we sing a different tune as our kids begin their summer vacation.
"No more school...what a bummer....I can't wait till the end of summer."
The children are home from school as they begin their summer break here on serene Lake Hamilton.
As we all know that means a time when injuries, bumps, and bruises are on the rise as we found out on the first day of our summer vacation 2011. If your Child is injured..., before making that emergency 911 call for help, please take the time to read the following story.
Read more»
Posted on 26 Jun 2011, 17:18 - Category: The Town Common
Leave a comment - Edit - Delete
Attached please find the following press releases for immediate publication, distribution display in public areas, and on web sites:
Click on any link above (writing in bold/italic) to read the Press Release!
We would ask that any and all newspapers and web sites publish this information as soon as possible. Public Offices, entities and Businesses please post this information in a public location or on your public web sites. Neighbors please share this information with neighbors and friends to get the word out. If anyone has creative ideas to make this information available to residents via facebook or other networking sites please do. Thank you to all who have and continue to disseminate this important information to the public.
Posted on 9 Jun 2011, 18:28 - Category: The Town Common
Leave a comment - Edit - Delete


As every 6th of the month everybody is invited to go of topic here. Do you have any questions or suggestions? Comment about anything that is amusing you or about anything that is bothering you, but do it in a civilized manner! I will delete obvious lies and offensive comments. To read previous comments under this category, click on "Speak Out Holland" on the left of this blog under the heading "Categories."
Peter Frei
Posted on 6 Jun 2011, 00:01 - Category: Speak Out Holland
5 Comments - Edit - Delete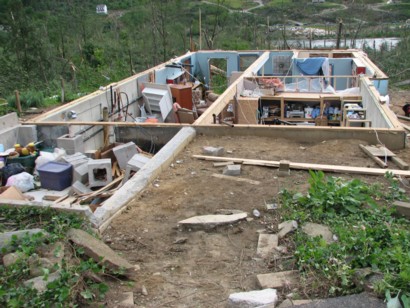 Pictured on the right:
Foundation of house on Page Hill Road in Brimfield. In the far upper corner is a pile of rubble to see, the remains of a former house on Wales Road near a pond.
Click on image to enlarge!
An unprecedented Tornado devastated along his 39 mile path of destruction communities between Westfield and Charlton,
read more»
Posted on 5 June 2011, 11:32 - Category: The Town Common
8 Comments - Edit - Delete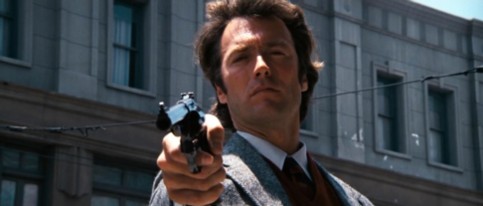 Tani Sapirstein of Sapirstein & Sapirstein, P.C., Attorneys at Law, is a familiar name since the last attempt by James Wettlaufer to prove that the Lamountain's are not involved in farming failed miserably and the taxpayer had to pickup the tab for Wettlaufer's personal vendetta against the LaMountain's.
Sapirstein is now representing defendant Brian Johnson, our elected Highway Surveyor, in an attempt to keep Brian's criminal record untarnished. Honorable Justice Poehler from the Palmer District Court will decide at the end of the hearing whether a "Criminal Harassment Prevention Order" should issue against Brian Johnson,
read more»
Posted on 16 May 2011, 00:01 - Category: The Town Common
30 Comments - Edit - Delete
"The solution to pollution is dilution", may not work anylonger someday.
The rate humans generate pollution with substances which have half-life times of thousands of years is rapidly increasing and the thing with dilution eventually will not work any longer and will become everybody's problem,
read more»
Posted on 27 Apr 2011, 10:49 - Category: The Town Common
Leave a comment - Edit - Delete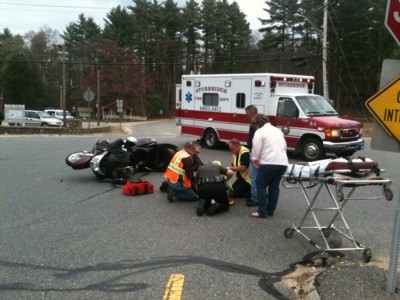 It is that time of the year when Motorcycle enthusiasts take their two wheels out of the garage. It happens once in a while that some car driver just overlooks a motorcycle as it happened today at Exit 2 of I 84. A driver in a silver colored four door sedan was taking a left turn onto Haynes Road at the intersection with River Road in Sturbridge. It is the intersection where the Hebert Candies store was years ago. The driver had two passengers in his car and was on his way to the Public House to meet with his sister who was waiting there for him. The heavy touring motorcycle tried to avoid the collision but couldn't and crashed into the silver colored sedan around 13:48 hours. The driver of the motorcycle had some injuries to his shoulder and his passenger was more seriously hurt.
Pictured above: EMTs called from Sturbridge attending the injured passenger of the motorcycle.
Peter Frei
Posted on 24 Apr 2011, 18:08 - Category: The Town Common
Leave a comment - Edit - Delete
Well water information here seems reliable, click here!
Guest-writer
Read also:
Selectboard Meeting of July 8, 2009.
Posted on 17 Apr 2011, 02:07 - Category: The Town Common
11 Comments - Edit - Delete
There are two articles about bylaw changes which do not need to be on the Warrant for the Special Town Meeting slated for next Tuesday, April 19.
There is a third article, Article #7, nicely hidden in-between others, and I bet you don't know about it! Is there a reason why they are not on the Warrant for the Annual Town Meeting?
Also, read about interesting history and facts in connection with two (hypocritical ?) individuals roaming our Town Hall...
Read more»
Posted on 15 Apr 2011, 15:58 - Category: Town Politics
3 Comments - Edit - Delete
The official Police Report confirms that another friend and employee of Brian's HWD had not the proper license to operate the heavy equipment and needed a trainer sitting right next to him in order to legaly operate the equipment,
read more»
Posted on 12 Apr 2011, 21:19 - Category: The Town Common
14 Comments - Edit - Delete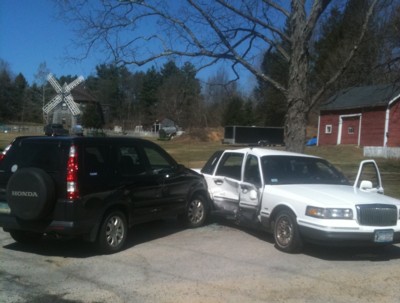 Today, around 14:15 hours, a white Lincoln Sedan was traveling eastbound on Stafford Road. The black Honda CRV was traveling on Mashapaug Road towards Brimfield. It is not clear whether the white Lincoln failed to stop at the stop sign or if he stopped and thought that there is a fourway stop at the intersection and expected the other driver to stop.
Brimfield Ambulance, the Holland Fire Department, and the State Police were at the scene.
Peter Frei
Posted on 7 Apr 2011, 23:18 - Category: The Town Common
25 Comments - Edit - Delete
Pages: ... [8] [9] [10] [11] [12] [13] [14] [15] [16] [17] [18] [19] [20] [21] [22] [23] ...