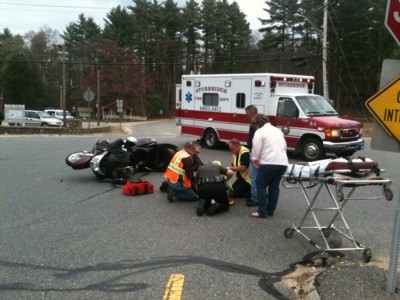 It is that time of the year when Motorcycle enthusiasts take their two wheels out of the garage. It happens once in a while that some car driver just overlooks a motorcycle as it happened today at Exit 2 of I 84. A driver in a silver colored four door sedan was taking a left turn onto Haynes Road at the intersection with River Road in Sturbridge. It is the intersection where the Hebert Candies store was years ago. The driver had two passengers in his car and was on his way to the Public House to meet with his sister who was waiting there for him. The heavy touring motorcycle tried to avoid the collision but couldn't and crashed into the silver colored sedan around 13:48 hours. The driver of the motorcycle had some injuries to his shoulder and his passenger was more seriously hurt.
Pictured above: EMTs called from Sturbridge attending the injured passenger of the motorcycle.
Peter Frei
Posted on 24 Apr 2011, 18:08 - Category: The Town Common
Edit - Delete
No comments posted yet.
Your Comments are welcomed, add one!
(no email-sign-up or other gimmick necessary, just start blogging away... I do not plant any cookies on your hard drive either!)