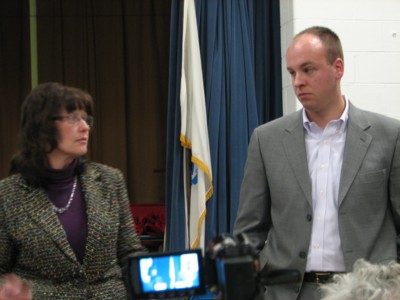 Town of Wales plans to move their Town Hall to Main Street location; lack of parking, no access for the disabled and many more short comings of the current location is forcing the change,
read more»
Posted on 6 Jan 2011, 2:23 - Category: The Town Common
Edit - Delete
Comments:
Posted on 7 Jan 2011, 8:19 by Tinker
Senior center #2
Look at the picture now there's a pair, and the look on their faces tell the story! Their agenda's got in the way of Wales getting what it needed.This could have been taken care of 2 yrs ago ,her activitism and the #2 comettiee refuseing to talk to the owners or even invite them to negiotate.Each time out of 4 apperances they the owners made to #2com meetings they went into excutive session and never talked to the owners..If the libary is ready to be condemed why then are children still allowed in there? Tell the com. their fired and put in people not affliated with the town hall or vote NO on the article,another Senior center comeing Wales watch out!!
_________________________________________________________________
Posted on 7 Jan 2011, 9:31 by Bill Darnley
#2 Main St.
At this point the town really should go ahead with the purchase of #2 Main St. It would be a wise and financially sound decision. The town should also thank the committee for their work and apoint a new one for renovations.
_________________________________________________________________
Posted on 11 Jan 2011, 22:31 by Peter Frei
#2 Main St. Vote
I was just informed that the voters of Wales voted in favor of the debt exclusion for the $1,443,600 to buy the property on #2 Main Street. The difference was only 10 votes!
_________________________________________________________________
Posted on 8 Feb 2011, 21:19 by Peter Frei
Wales voted NO!
I just learned from an I-reporter of the Holland Blog that the voters of Wales voted against the purchase of the buildings located on 2 Main Street as the new location for their Town Hall.
The voters approved back on January 11, 2011, by ballot vote to finance the proposal with debt exclusion.
At tonight's special town meeting, the voters now failed to vote in favor of the purchase and renovation of the former Tedore's restaurant and neighboring buildings.
The funds would have been borrowed by debt exclusion which was already approved by the voters as mentioned. The loan would have been paid back outside the limits known as proposition 2-1/2.
Selectman Vannais erred when he predicted:
"I am confident that when they look at all the research that has been done that the majority of the people will see that we have investigated all alternatives and see that this is the best one from a cost perspective,"
Dave Worth's alternative plan will now be something residents of Wales will discuss and consider.
Thanks to the I-reporter for the MMS!
_________________________________________________________________
Posted on 9 Feb 2011, 9:04 by THANKFULLANDGRATEFUL
Wales issues
Thanks for letting us know the outcome of the vote. I was at the meeting, voted and then left. Nothing in the paper about it.
Now that there is no more 2 Main Street to waste our money on, how about we look at the total hours of the employees in Wales. Town Clerk, Tax Collector and Selectmen's Asst work less than 20 hours a week, even though they are paid for more. Town committees meet for maybe two hours a week at most. This is not Washington DC folks, they should be paid for the time they actually work, and there is no need for a full time building for part time people. Police Dept meets twice a week, use the senior center for all, it is vacant 75% of the time. There is at least one room, maybe two plus the downstairs that could be used. Library and town offices are not good enough for very part time town emplyees but would be good enough to sell?? Yeah, right!!! Thank you voters for using some common sense. We will need the extra money to pay the $250.00 per hour someone just decided to spend on clearing roofs of town buildings, library, town garage etc where they only used 1 man to clear the roof with a buck truck so it took a lot longer than if they used the 3 man highway department, oh, that's right, then they wouldn't have had the time to work on their personal vehicles and drive around town instead of working. Sorry I'm so bitter, it's just sickening. Lay off the town employees that are collecting full time pay for part time work, Selectmen's asst is #1, along with tax collector. Rip off time is over!
_________________________________________________________________
Posted on 9 Feb 2011, 12:37 by Peter Frei
Greetings to my friends in Panama..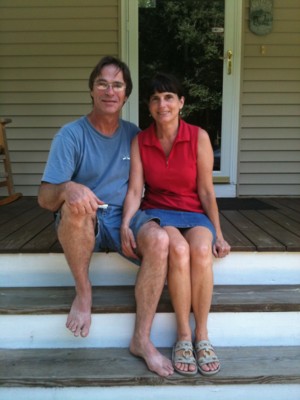 Bob and Andrea who spent most of their lives in Wales sold their property and moved on to warmer weather.
Once in a while I check on Google Analytics where people are reading the blog.
If Panama is on the list as it is today, I always know that it is the Brunell's.
You guys are probably homesick, miss all the fun with shoveling snow and follow the blog, especially today with the news about yesterday's vote.
We miss you guys!
_________________________________________________________________
Your Comments are welcomed, add one!
(no email-sign-up or other gimmick necessary, just start blogging away... I do not plant any cookies on your hard drive either!)