Around 21:30 hours tonight, two residents called 911 and reported screams and the sound of breaking ice coming from the frozen lake down by the dam.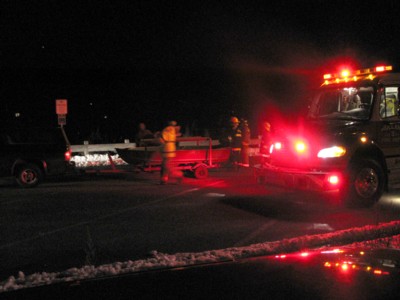 First on the scene was a state Trooper followed by several members of the Holland Volunteer Fire Rescue Department only minutes later. Brimfield Ambulance and Holland Police followed.
The response time for all the emergency personnel that were called-in was impressive, and is actually all the time very short!
If someone would fall through the ice, seconds could make the difference between life and death. Immediately after their arrival, the mostly young men and women ventured out on the ice into the darkness in an attempt to locate the person(s) in need. However, nobody was found.
About half an hour later, a helicopter — I believe stationed in Westfield — arrived and scanned the north end of Hamilton Reservoir near the dam with its powerfull search light. As far is I could tell, nothing was found and the possibility that someone could have pretended to be in a life threatening situation was an upsetting thought.
Just three days ago, the emergency personnel were called to rescue a large dog.
Peter Frei


Posted on 5 Jan 2011, 23:49 - Category: The Town Common
Edit - Delete
Comments:
Posted on 6 Jan 2011, 10:54 by Peter Frei
Was it a prank?
If this was some kind of bad prank and you know involved individuals, please call Holland Police, the number is (413) 245 0117.
_________________________________________________________________
Posted on 8 Jan 2011, 13:58 by Helicopter Pilot
Air Wing Section.
The 30 pilots of the Air Wing or Aviation section have provided the Commonwealth and its network of first responders with airborne support for over three decades. Among its fleet of six turbine helicopters and one fixed wing aircraft are Eurocopter EC135 aircrafts, the best and most advanced helicopters in service in the entire USA. The EC135, modified by Metro Aviation in Shreveport, Louisiana, are equipped with Night Vision capabilities, Tactical Flight Officer (TFO) suite, gyro stabilized thermal and HD color camera, microwave capability to transmit live video images to ground units and many more advanced high tech Instruments. The Aviation Section is the largest and most comprehensive full time public safety aviation unit in New England. Aircrews stand ready to respond from three strategically located airbases within the state 365 days a year. The three airbases are located in Lawrence, Plymouth, and Westover. The Unit that was dispatched to Holland operated out of Westover.
_________________________________________________________________
Your Comments are welcomed, add one!
(no email-sign-up or other gimmick necessary, just start blogging away... I do not plant any cookies on your hard drive either!)