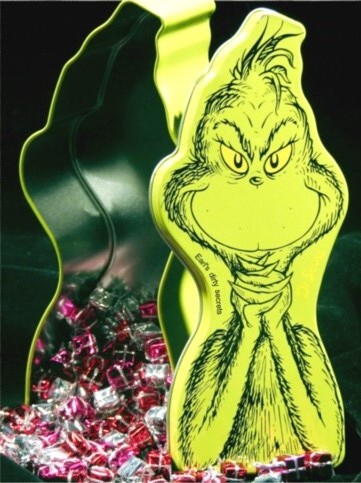 Today
(December 22, 2010)
is the thirtieth anniversary of the event that formed the legacy of one of Holland's former "leaders."

December 22 is since known as

"Holland
Grinch
Day,"

in memory of this event.
Posted on 22 Dec 2010, 01:52 - Category: The Town Common
Edit - Delete
Comments:
Posted on 24 Dec 2010, 20:11 by Keith & Holly
MERRY CHRISTMAS
Merry Christmas to Peter and Dana. Thanks for the chocolate and we were at 56 So. Cottage Road. Great job on taking the Christmas lights.
_________________________________________________________________
Posted on 11 Mar 2011, 15:58 by Jim.."Duke"..LaMountain
Welcome Home Papa Peety
The Roman Catholics Communities of Saint Patrick of Monson and Saint Christopher of Brimfield have a Teddy Bear Ministry.
Teddy bears have been sent to Geoff Earls and
Earl Johnson. Please keep them and their families
in your thoughts and prayers. If you know someone who is in
need of a bear please contact Lynne at 245-1533. Thanks.
If anyone has noticed the dark skies and gloomy weather here in Holland lately....Well I have heard our King Mr Earl Johnson has completed his ReHab...(physical not mental)...(awwww shucks) and is resting comfortably at his home. The Catholics have given him a Teddy Bear and are praying for Earls Soul. (Good Luck with that). Anyone wishing to send Mr Johnson get well wishes can do so here on the Holland Blog. Welcome Home Earl "Peeety" J. I hope you feel better.
Jim L.
_________________________________________________________________
Your Comments are welcomed, add one!
(no email-sign-up or other gimmick necessary, just start blogging away... I do not plant any cookies on your hard drive either!)