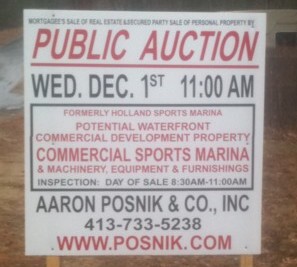 You may have noticed the sign announcing a public auction by Aaron Posnik & Co., Inc., at the former Holland Marina off Mashapaug Road.
The auction took place today and gives testimony of what is going on in the real estate market,
read more»



Posted on 01 Dec 2010, 23:49 - Category: The Town Common
Edit - Delete
Comments:
Posted on 2 Dec 2010, 1:39 by Peter Frei
Fiscal trouble is brewing..
Massachusetts is also called Taxachusetts, and this for a good reason. Our neighbors in Connecticut are only taxed on 70% of fair market value of their real estate, and this according to law.
We in Massachusetts are taxed on 100% of the assessed property value. The property tax is an "ad valorem" (based on value) tax.
As a Christmas present, the Supreme Judicial Court of the Commonwealth handed down what became known as "The Sudbury decision" on did so on Christmas Eve back in 1974.
The Sudbury Decision created a mandate for towns to assess property values at 100% of full fair cash market value.
However, most of our properties are taxed much higher. Some up to 300% of the fair cash market value and more!
The fair cash market value for the former Holland Sports Marina was determined yesterday. The highest price anybody (besides the bank who owns the property) was willing to pay was $150,000.
The property is assessed at $554,600 according to the Vision Appraisal website. The difference between the fictive value and the actual value is $404,600!
The difference in property taxes to be paid is $5,899!! Imagine what would happen if all residents would only pay what the law mandates... Imagine what would happen if all residents would file for an abatement to be only taxed on what their property is worth in reality...
_________________________________________________________________
Posted on 2 Jan 2011, 13:57 by Concerned Resident2
Lower our Taxes
Is anyone familiar with how to file an abatement and success rate? This article does reflect that are properties are over-assessed and we are paying far too much in taxes. Just looked online to find out my house is misclassified. You can find your assessment by going to:
http://data.visionappraisal.com/HollandMA/search.asp
From what I can find abatements are due by Feb. 1st so be sure to tell your neighbors.
In general there is a lot of waste in this town government and plenty of opportunity to cut costs and lower our taxes. The usual scare tactic I hear from Selectman while watching town meetings is threatening to reduce education, police, etc. While no one wants to see our children's education suffer all one needs to do is drive by the school and observe all the staff cars and easily conclude the school is overstaffed.
Can the salaries of town officials be published like they did in California?
_________________________________________________________________
Posted on 3 Jan 2011, 16:39 by justsayin
marina sale
the marina sale is not to be considered an arms length sale and cannot be used for market analysis by the Assessors in developing valuation nor should it be used by appraisers. The land value may be worth 150k by itself being waterfront and they are not building lakes anymore. There must be homes on the lake with an assessed value over 500k and they could not run a buisiness. Good luck to the new owners!......Most cities and towns publish salaries in thier annual town report. Its public info
_________________________________________________________________
Posted on 9 Mar 2011, 9:13 by Peter Frei
Holland Sports Marina on the Market..
The Holland Sports Marina came on the market today and is listed for $280,000.
According to records at the Registry of Deeds, the previous owners bought it for more than twice as much, $580,500, on April 27, 2007 (book 16653, page 256).
Here is a link to the lisitng:
http://www.massrealty.com/foreclosures/hampden/holland/home/53-Mashapaug-Rd,-Holland,-MA-01521/71197272
_________________________________________________________________
Your Comments are welcomed, add one!
(no email-sign-up or other gimmick necessary, just start blogging away... I do not plant any cookies on your hard drive either!)