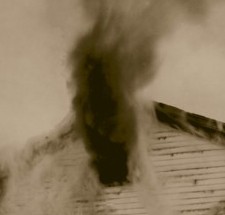 Gerald Germaine will write a series about historic events, places, and structures here in our beloved town. Gerald and Leslie Germaine are the owners of the historic Hisgen Farm. Leslie presently operates
Hisgen House Bed & Breakfast
, which is located on 78 Hisgen Road here in Holland.
Gerald, most call him Gerry, grew up here in Holland and left the town in 1971 to pursue his career as a real estate agent. Gerry was the Vice President of Relocation and Asset Management of Better Homes and Gardens Trust of New England. In 2005 he bought the historic Hisgen Farm and returned to the place he calls home.
The Hisgen House has a rich history and carries the name of a man,
Thomas Louis Hisgen
, who made a run for the White House back in 1908. Gerry is an avid historian and will share some of his knowledge and rare photographs of his collection with the readers of the Holland Blog.
His first piece is about one of the biggest fires ever that attacked a historic structure in Holland when Gerry was just five years old,
read moreĽ
Peter Frei
Posted on 30 Jul 2010, 09:49 - Category: Local History
Edit - Delete
No comments posted yet.
Your Comments are welcomed, add one!
(no email-sign-up or other gimmick necessary, just start blogging away... I do not plant any cookies on your hard drive either!)