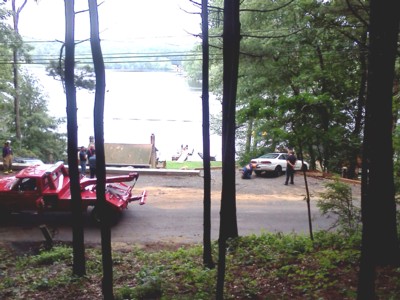 Appears Acura driver had trouble turning around in a driveway at about #46 Over The Top Road last night in the heavy downpour. Got stuck on the edge of a steep hill heading towards the lake.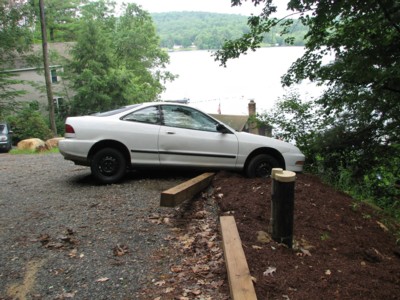 Holland FD rescued early Sunday morning.
Kevin Murphy



Posted on 26 Jun 2011, 17:32 - Category: The Town Common
Edit - Delete
Comments:
Posted on 27 Jun 2011, 8:53 by Taylor
How Come?
How come you have time to put this and other article "Schools Out for the Summer" on line as recent as Sunday YET you fail to provide an update (or outcome) to the Brian Johnson hearing held in Palmer District Court AS REQUESTED BY A COUPLE OF PEOPLE on this blog. You said the hearing was continued to Thu. 6/16 @ 2:30 p.m. Well that date & time has passed so WHAT HAPPENED??????
_________________________________________________________________
Posted on 27 Jun 2011, 13:14 by Peter Frei
simple...
If you would check the names of the authors, you would see that I didn't write the latest two pieces...
Update will follow when I have time, the next continuance will be July 28, at 14:30 hours; there was also one on June 23.
There is no way that Brian Johnson will get out of this one. Even so he attends the hearings, I don't think that he realizes how deep of a hole he dug himself by his illegal conduct and repeatedly harassing me.
Please post your comments where they belong. Your comment has nothing to do with this piece. I will just delete future comments in the wrong place.
_________________________________________________________________
Your Comments are welcomed, add one!
(no email-sign-up or other gimmick necessary, just start blogging away... I do not plant any cookies on your hard drive either!)