I got a phone call this morning with the worst kind of news you can get, my neighbor Sheldon Snieder, or "Shelly" as everybody called him, passed away totally unexpected yesterday morning at his home in Longmeadow.
We became neighbors when Shelly bought the house in March of 2007. It is the house on 3 Pine Tree Drive, directly on Hamilton Reservoir, the house where Kenny Jones and earlier his father Sonny and even earlier Kenny's grandfather lived.
It was Shelly's second home. Shelly and his wife Dianne just moved their primary residence from Enfield to Longmeadow so they would be closer to their three grandchildren. Shelly loved to be in his lake house where he spent much of his time improving his house. He also loved to fish and to practice target shooting with bow and arrow.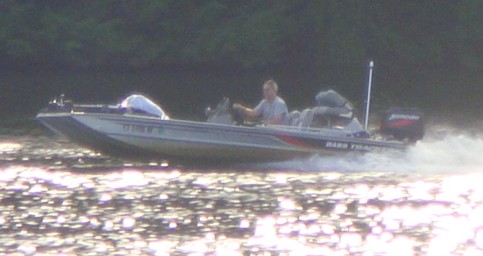 Picture was taken on July 25, 2010, at 7:59 am.
Just last year, he added a large screened porch to his house. He traveled all over the country on business and his car would have as many miles on the speedometer after one year as mine would have after 15 years.
Shelly was a good guy, always ready to lend a hand. Shelly, I will miss you and I'm still in disbelief...
Shelly was born in Winthrop MA, in 1944, he then moved to Revere. Shelly was the owner and managing partner of both Shelly Snieder Marketing and Shelly Snieder Rugs. He was an avid bass fisherman. Shelly was the glue of the extended Snieder family. He is survived by his wife Dianne (Barr) Snieder, his daughters Samantha Snieder and Bari (Anthony) DeMichele, his three grandchildren William, Benjamin, and Elizabeth, his brother Steven (Edna) Snieder, his sister Barbara (Leonard) Green, his six nephews Eric, Lee, David, Michael, Ricky, and Steven, his sister-in-law Jayne (Geoff) Berman, and his best friend Gene Rosenberg. Shelly's funeral will be Tuesday October 12th at 12:00 Noon at Sinai Temple at 1100 Dickinson St. Springfield, with burial in Sinai Memorial Park. Shiva will be at 135 Pinewood Dr. in Longmeadow with evening services Tuesday and Wednesday. Memorial contributions can be made to USO.org or to the charity of your choice. To visit the Guest Book, click here!
Peter Frei


Posted on 11 Oct 2010, 21:32 - Category: The Town Common
Edit - Delete
No comments posted yet.
Your Comments are welcomed, add one!
(no email-sign-up or other gimmick necessary, just start blogging away... I do not plant any cookies on your hard drive either!)