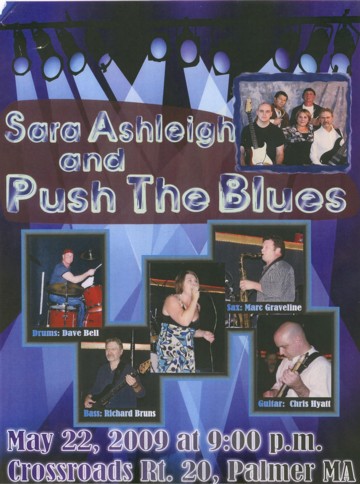 Sara Ashleigh, aka Sara Meier, one of ex-Police Chief Kevin Gleason's ex-girlfriends and mother of Gleason's youngest daughter has an impressive drive! Sara manages the "Children's Crossing" store located at 479 Main Street, (Rt.20), Fiskdale MA, in the same building as the Sturbridge Coffee House, is a real estate agent for Sullivan & Wallace, a full time mom to her daughter, and still finds the time to do concerts… I am truly impressed ... Sara Ashleigh is on Facebook.com under Sara E. Ashleigh.
Dave Bell, drums, is another individual with a busy schedule. Dave is the owner of 1-Stop Towing on Holland Road in Brimfield.

I hope a lot of people will attend the concert on May 22 in Palmer.
(Click on image to enlarge image!)
Peter Frei



Posted on 8 May 2009, 17:31 - Category: Things To Do
Comments - Edit - Delete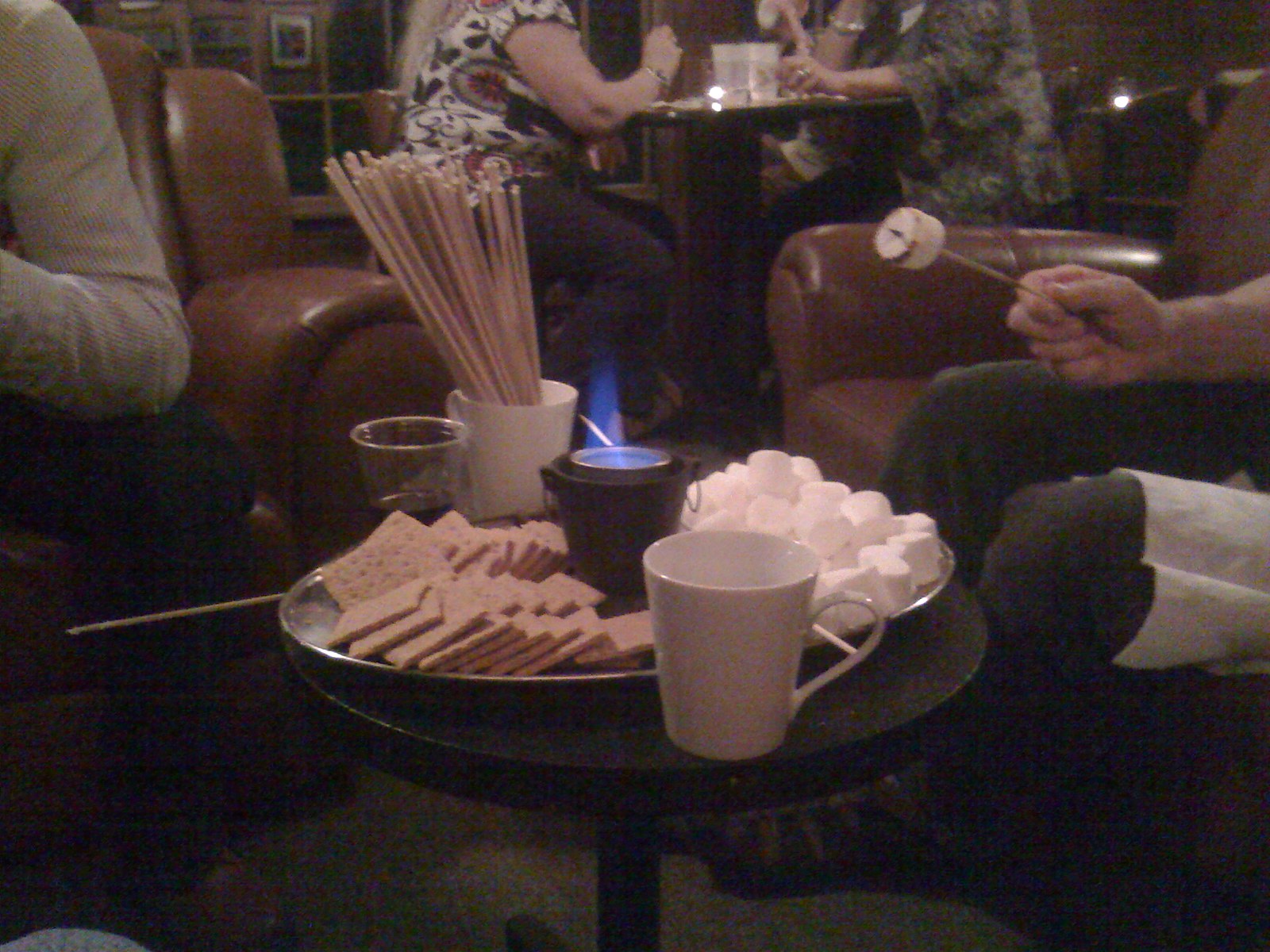 Do you know the feeling of not wanting to miss any of the action, but not wanting to be the first one? I planed to be there at 7:15 PM, not to late; hoping to find people already there so attention would be spread among a crowd and not just the very few. Some just call it to be "fashionably" late.
Before I realized that I was actually inside, owner Pia Rogers engaged me already in small talk and made me feel at ease. She welcomed everybody and did not give the feeling of awkwardness a chance. Pia tagged everybody, which made it easier to communicate.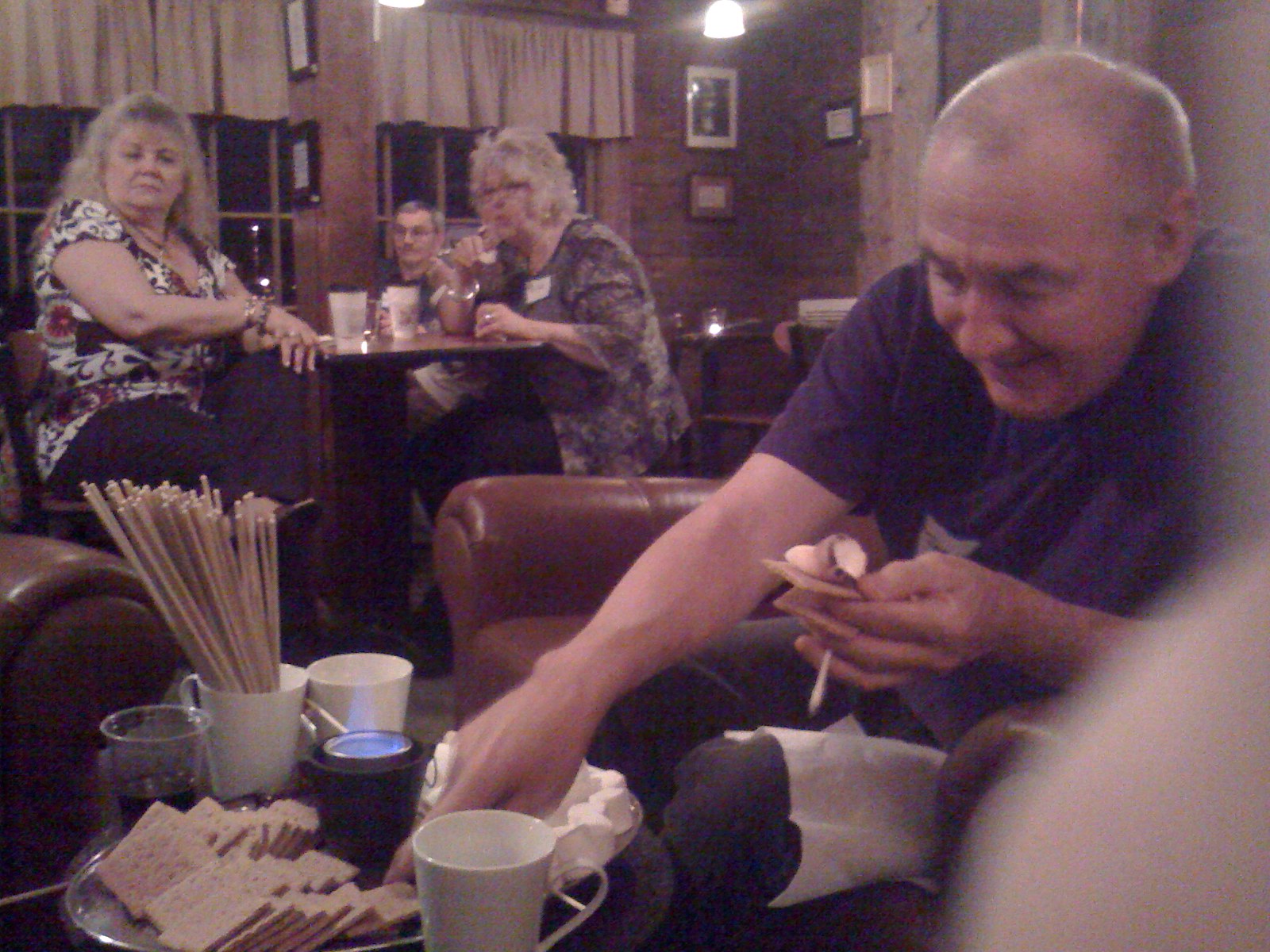 It was the first time Pia organized the "singles only night" and she did a perfect job. Te place was crowded in no time at all and I had interesting conversations about unexpected topics.
A buffet with chocolate dipped strawberries, veggies, crackers and other snacks were offered; some tables had small burners to grill marshmallows and all the ingredients to make smores.
It was nine o'clock to soon, but Pia did not strictly enforce the advertised end-time of the event. It was almost ten o'clock when I finally left the cozy Sturbridge Coffee House.
I will be back if Pia follows through with her intention to have a singles only night every third Friday of the month.
Peter Frei


Posted on 25 Apr 2009, 2:23 - Category: Things To Do
Comments - Edit - Delete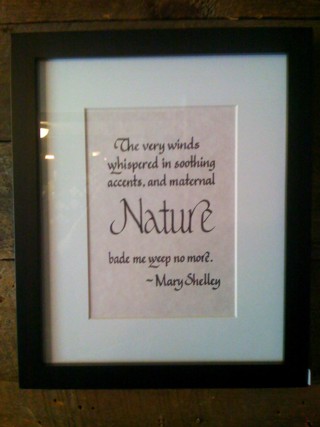 Artwork like the beautiful calligraphy with poetry von Mary Shelley on the left and art photography, both by Yvonne Elizabeth Ashworth, will enhance the ambiance of the place the first Singles Night is being held this coming Friday night in Fiskdale.
My favorite aphorism of Mary Shelley:
It is justice, not charity, that is wanting in the world.
Mary Wollstonecroft Shelley wrote the novel "Frankenstein" in 1816 while on vacation in Switzerland.
The year 1816 was the year known as the year without a summer. Lord Byron, John William Polidori, and Mary Shelley stayed inside as it was to cold outside and competed in writing the scariest story. Mary Shelley beat the others with her "Frankenstein" story which became a world wide classic, read more»



Posted on 23 Apr 2009, 01:03 - Category: Things To Do
Comments - Edit - Delete
If you don't have any plans for tomorrow evening and you like a good flick, I might just have the right tip for you... Library Box Office presents independent and foreign film series at the
Jacob Edwards Library.
The screenings start at 18:00 hours in the Pioppi room at 236 Main Street in Southbridge once a month and are free of charge! Last month the Library Box Office featured the Swiss movie "Fraulein."
"Noise" is a story about the wrong person in the right place at the wrong time. Two heinous crimes have left a suburban town reeling. Police quickly connect them but are desperate for witnesses as the local community enfolds itself in a shroud of secrecy, borne from fear and an untrammeled mistrust of authority. A young police constable, Graham McGahan, suffers from a chronic hearing problem and applies for worker's compensation. To his chagrin, he is stationed at a police caravan near the crime scene. Living on the periphery of the investigation, McGahan crosses paths with the various people affected by the tragedies and uncovers an unraveling nightmare of guilt and suspicion.
Peter Frei


Posted on 8 Apr 2009, 00:23 - Category: Things To Do
Comments - Edit - Delete
Pages: ... [2] [3]