Changes to the Open Meeting Law Effective July 1, 2010:

New requirements for certifications and other documentation to keep on file. (These requirements will likely pertain to the Town Clerk's Office.)
48 hour notice – still required, but now cannot count Saturdays, Sundays or holidays. (Example: Monday night meeting must be posted before Thursday night.)
Notices must (1) include a list of topics the chair reasonably anticipates will be discussed (i.e., agenda), and (2) be posted in or on a municipal building to be visible to public at all hours. (Having meetings posted on the Town Website does NOT bring officials into compliance. Town Officials must have a posting board attached to the OUTSIDE of Town Hall!)
Emails are expressly included in definition of "deliberation" (must be in open session), but discussion of agendas, scheduling information or reports to be discussed at next meeting is permitted.
Attendance by a quorum at a location will not constitute a "meeting" if it is not the intention of the board/commission to conduct business and no deliberations occur. (For example, attending a conference, social event or a meeting of another municipal board is acceptable, as long as no discussions ensue regarding board/committee issues.)
Minutes must contain more detailed information in addition to "date, place, time and matters discussed," they shall include summaries of matters discussed, and a list of documents used, all decisions made/votes taken.
"Minutes" shall also include "documents and other exhibits, such as photographs, recordings or maps used by the body at an open or executive session and along with the minutes, be part of the official record of the session."
Remote participation (conference call, audio or video conferencing) will likely be allowed by regulation or letter ruling of the Attorney General. (However, a quorum of the body will have to be present and the meeting cannot be chaired via audio or video conferencing).
All persons serving on a public body must receive a copy of the Open Meeting Law and related regulations and must submit receipt of same to the Town Clerk within two weeks of appointment.
Citizens making complaints of Open Meeting Law violations must file written complaints with the governmental body first. The governmental body then submits a reply to the complainant and the Attorney General's Office.
Peter Frei
Read also:
Open and accountable Government.
Record Keeping at the Planning Board.
Posted on 29 Jun 2010, 22:44 - Category: Town Politics
Comments - Edit - Delete
The majority of Holland voters voted for corruption;
Michael P. Kennedy 282; Ray Korny 231,
Brian Johnson 359; George Carling 175,
Nancy Talbot 278; Lynn Arnold 235.
I think nobody can help Holland,
GOOD LUCK!!
Peter Frei
Posted on 7 Jun 2010, 20:23 - Category: Town Politics
Comments - Edit - Delete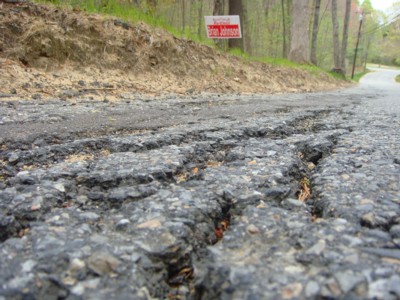 I predict that Raymond Korny will defeat Michael Kennedy and that George Carling will defeat Brian Johnson by a narrow margin.
A re-election of Brian Johnson would allow the roadways of Holland to fall further into disrepair.
Brian Johnson's lack of knowledge how to proper maintain roads will eventually have a devastating effect to the transportation infrastructure of the town.
An interview published in the Southbridge Evening News brought to light that Brian Johnson has nothing to show for other than good intentions for the future.
Do you remember smelling hot tar around town during the summer months more than ten years ago? What happened? Why do we not smell that anymore? Read more»


Posted on 7 Jun 2010, 03:09 - Category: Town Politics
Comments - Edit - Delete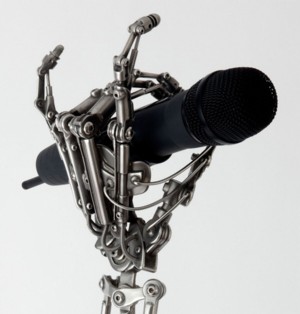 In case you missed the debate between the two candidates, Michael P. Kennedy and Rayomnd Korny, the Holland Blog was there and offers its readers the video of the most interesting debate; the first one ever in our town's history as far as I know.
Kennedy surprised with his answer to the question whether he favors or opposes the proposed truck stop, read more»



Posted on 3 Jun 2010, 03:40 - Category: Town Politics
Comments - Edit - Delete
Earl Johnson attended the last annual town meeting as selectboard member; James Wettlaufer is not credible any longer; and Christian Petersen joined his two colleagues in their quest to promote a project that would have violated not less than 16 provisions under the bylaws or other rules and regulations.
However, the voters of Holland used sound judgment and dared not to follow the advice of their "leaders," and do it right. The disabled and seniors deserve it,
read more»
Posted on 27 May 2010, 00:01 - Category: Town Politics
Comments - Edit - Delete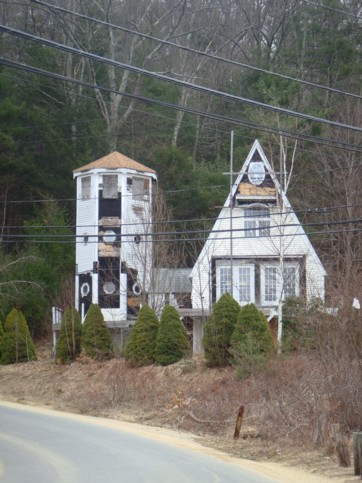 Throughout the day, I will gather information and will post it here and add as the day progresses, so check back if you can. If you don't like the way our town is run, be there tonight and voice your opinion!
Certain articles on the town warrant need your attention, here is what I gathered so far:
Article #3, #4, and #5 seek authorization by the voters to authorize the Board of Selectmen to grant easments and to enter into a lease agreement to lease the 2 acre town owned property to HAP, Inc. in order to acommodate the proposed low income housing project for seniors.
The voters have a last chance to force HAP and the town government to find a better solution for the project.
If the voters vote YES on article #5, the project will be built, if the voters vote NO, the project can not be built at the proposed site.
YES Votes on article #3 and #4 will just make it easier to realize the project but are not necessary for the project to go forward.
There has been strong opposition by several residents towards the project's realization on the proposed side as the 2 acre parcel does not allow the construction of the Project,
To read more about article #3, #4, and #5 click here!»
Peter Frei


Posted on 25 May 2010, 13:15 - Category: Town Politics
Comments - Edit - Delete
Wales residents sent a clear message to the "leaders" of Holland; the rejection of the proposed regionalization of Wales' and Holland's Elementary Schools came as no surprise for many.
Read more»
Posted on 20 May 2010, 00:01 - Category: Town Politics
Comments - Edit - Delete
I'm attending the Wales annual town meeting. The voters of Wales just voted on article 12. Article 12 is the question on the warrant whether the voters of Wales are in favor of regionalizing their elementary school with the one of the town of Holland. The vote count is:
54 votes in favor, 101 against the regionalization of the elementary school. More when I'm back home!
Peter Frei
Posted on 19 May 2010, 21:50 - Category: Town Politics
Comments - Edit - Delete
I've lived in Holland for my entire childhood till I was 21 years old. I moved permanently back to town in 2005.
Since that time we've lost a lot of our old timers who helped build this town and make it what it's become.
People like Tom Mulrain, our police chief, John Goodhall who ran the Holland Fire Dept. for many years,
Fred Henke who served us as Selectman/Police Officer along with many other positions, my dad, Gerry Germaine, who took care of the Holland School as janitor for many years and more recently Walter Woods who made sure we could always get home in a storm running our Highway Dept., All people who took care of US by taking care of our beloved town . They did it on a shoestring and dedicated countless hours of their own personal time and money and often times with great sacrifice to their own families with no reward.
I moved back to Holland only to find the town immersed in political strife that can only be rivaled by the Hatfield and McCoys.
The upcoming election will prove to be an opportunity for the people of Holland to make a change away from the direction of past politics. We have such a person here in Holland who I believe holds the ideals and dedication of some of his past predecessors who can help implement some much needed changes here in town. I believe Ray Korny who's running for Selectman has the character, honesty, and integrity needed for Holland to go forward to a new beginning. You only have to talk to Ray Korny a few minutes to find out he's articulate, well read, educated, and detail oriented and that he isn't afraid to speak up for what he feels is right or WRONG. You only have to drive by his property or go to his web site for his and his wife Barbara's bed and breakfast (restfulpaws.com) to see how dedicated and detail oriented he is to a project. I believe he will be just as dedicated to the Town of Holland. He has served in a number of capacities for the town already, and he's here in town almost 24 hours a day 7 days a week. As such he is familiar with the interaction of our existing officials.
Holland has a rare opportunity right now for that New Beginning. I hope the people of Holland will throw all their support behind Ray on election day and do what's necessary by voting for him. It's rare that a town has the opportunity and willingness of an individual like Ray Korny to serve it's people. It may be a long time before we have another chance at such a quality individual. Let's not miss this one!.
Gerry Germaine
Hisgen Farm
Hisgen House
Bed & Breakfast
78 Hisgen Road
Holland, MA
Posted on 13 May 2010, 12:19 - Category: Town Politics
Comments - Edit - Delete
This year's public hearing with the Finance Committee was held on April 20, 2010. Thomas Dubrey, chairman of the Committee, together with Anthony Roman and
Andrew Harhay
presented the draft of the budget for FY2011 and explained how they will keep the town fiscally afloat during these economic hard times. Dubrey had an unexpected clear answer to tax collector Nancy Talbot's request for more funds.
Read more and watch the video»
Posted on 7 May 2010, 00:01 - Category: Town Politics
Comments - Edit - Delete
My aquisations were incorrect, it was not intentional and here is how it happened: The town zoning bylaws clearly restrict political signs to 288 square inches, see paragraph (i), and (d) of subsection 7.11:
7.1 SIGNS
7.11 General Restrictions and Allowances:

Any exterior sign or advertising device hereafter erected or maintained shall, except as expressly provided, conform to the following restrictions:

No sign shall be so located that it will cause danger to traffic by obscuring the view of a public way.
Flashing, blinking, revolving signs and similar displays are not permitted except by special permit by the Board of Appeals.
No sign shall be place on or project over town property or be placed on utility poles which are located on town property.
Nothing in this bylaw shall forbid property owners from erecting on their own property signs not more than two square feet in area containing the words "No Dumping", "No Trespassing", "Private Property", "Beware of Dog", "Blind Driveway" or other customary signs of similar import.
One sign for each family residing on the premises indicating the name of the owner or occupant or pertaining to a permitted accessory use provided, however, that said sign shall not exceed two square feet in area, or twelve feet in the aggregate.
One sign not over nine square feet in area pertaining to permitted buildings, structures and uses of the premises, other than dwellings, and their accessory buildings.
Temporary signs aggregating not over twelve square feet in area pertaining to the sale or lease of the premises on which said signs are located, provided that said signs shall be permitted for a period not exceeding one year.
Directional signs not exceeding two square feet in area pertaining to churches, schools, institutions and other non profit uses, or to the location of businesses, places of accommodation and professional offices.
Political signs shall be allowed as a matter of right, but shall not be greater in either area or in the aggregate, than that allowed for non political signs.
To make sure that no other rules apply to political signs erected on parcels in the business district, I started to read subsection 7.13.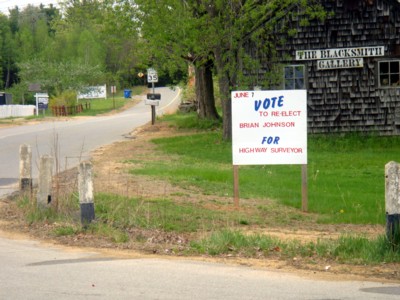 Under paragraph (a), I read "Signs shall pertain only to a use or business conducted on the premises on which they are located and must conform to the height regulations in the appropriate district." This sentence is unambiguous and restricts permitted signs to signs that "
pertain only
to a use or business conducted on the premises on which they are located..." There is nothing that would indicate that there are exceptions, there is no language such as "except," there is also no restriction on the term "signs." It does not read, "business signs..." it just reads "signs shall pertain only to a use or business conducted on the premises on which they are located..." There was no need to read any further, political signs are not allowed at all according to the meaning of paragraph (a) of subsection 7.13.
However, I just read the entire subsection 7.13, and to my surprise political signs are mentioned under paragraph (f). Not only are they allowed, they can measure up to "200 square feet in the aggregate." A political sign could be as large as 10 feet by 20 feet if erected on a parcel in the business district.
The word "aggregate" is a term used to describe the one-dimensional property of a group of items and not the two-dimensional or three-dimensional properties. The word is correctly used to describe the length or height of an item (sign) and not the surface in square foot. I do apoligize for jumping to a conclusion. Anybody familiar with our bylaws will agree with me that our bylaws are a mess and need to be rewritten to avoid ambigiuous interpretations and situations like this one.
Here is subsection 7.13 in its entirity:
7.13 Business Districts

In all business districts the following signs and no other are permitted:

Signs shall pertain only to a use or business conducted on the premises on which they are located and must conform to the height regulations in the appropriate district.
The total surface area of no one exterior sign on any one property shall not exceed one square foot for each linear foot of street frontage; however, in no instance shall the total surface area of all exterior signs combined on one premises be more than 200 square feet in area.
Notwithstanding any other provisions of this bylaw, religious and public institutions shall be permitted to erect signs in the aggregate of not more than fifteen square feet, and only on property belonging to same.
Illuminated signs shall be located twenty five feet or more from a residential district boundary line.
No sign shall extend over public property.
Political signs not exceeding 200 square feet in the aggregate.
Peter Frei
Posted on 18 May 2010, 14:34 - Category: Town Politics
Comments - Edit - Delete
Pages: ... [3] [4] [5] [6] [7] [8]