John Hindle Goodhall Sr. WEST DENNIS — John Hindle Goodhall Sr. of West Dennis peacefully passed away Feb. 18, 2010, at the age of 84.
Mr. Goodhall was born in Stafford Springs, Conn., and raised in Eastford, Conn.
He was the son of the late Wallace I. Goodhall and Ruth Fenlon Goodhall. John proudly and valiantly served his country by enlisting in the Army. He served in the Italian and French theaters and was injured prior to the Battle of the Bulge, thereby earning his Purple Heart. He had the rank of sergeant when he was discharged. After returning home he met and married his wife Corinne Hulburt. John and Corinne formerly resided in Holland Mass. where he held the position of town selectman, police chief, fire chief and highway superintendent; served as Commander of the local American Legion; owned his own construction business and school bus operation and joined the Masons and Melha Temple in Springfield, Mass. He and his wife owned a seasonal cottage colony in West Dennis where they retired to in 1980.
He lovingly leaves Corinne, his wife of 62 years, his daughter Ruth C. Goodhall of Dennisport, his son John H. Goodhall, Jr and daughter-in-law, Patricia of Grafton, Mass. and grandchildren, Maura of Bridgewater and Eric, of New Bedford. He leaves a sister, brother, many nieces, nephews, grandnieces, grandnephews, cousins and friends. In lieu of flowers, donations can be made to the West Dennis Community Church, P.O. Box 487, W. Dennis, MA 02670.
Burial with military honors will be at the Holland Cemetery, Holland, Massachusetts on the June 12th. It is at 1:00 and then there will be a gathering with refreshments at the Senior Center right after.
Posted with permission of the Goodhall family by Gerry Germaine Hisgen House Bed & Breakfast Holland, MA 01521 HisgenHouse.com
Posted on 15 May 2010, 9:08 - Category: The Town Common
Comments - Edit - Delete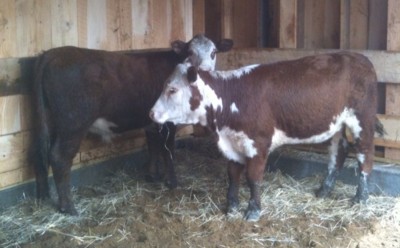 For the first time in more than a century there are once again cattle at the former Blodgett Farm on Mashapaug Road.
Northeast Concepts/ Huguenot Farm recently constructed a cattle barn on their hillside property and today brought two of their Polled Hereford Cattle from their Oxford Farm to the Holland Farm.
We now have a source of prime beef growing here in Holland. Finally..
James P. LaMountain
Posted on 8 May 2010, 15:04 - Category: The Town Common
Comments - Edit - Delete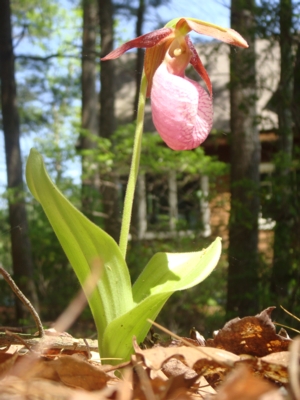 Just 50 feet from my house is this pink lady's slipper, one of two orchid species that grow right next to my house. I took this picture yesterday.
The cypripedium acaule is native to our region but you will not find any on your lawn. Keeping your surrounding s natural produces this wonder of nature's beauty and splendor and keeps the lake clean.
Even if you do not live on a lake, you can help keep it clean. One of the easiest ways is to
use lake-friendly, phosphorus-free fertilizer for your turfgrass.
Hamilton Reservoir and Lake Siog and all other downstream water bodies will appreciate it.
When too much phosphorus enters the lake, algae and weed growth become uncontrollable. Using a lake-friendly, phosphorus-free lawn fertilizer will help protect the lake and will not compromise your lawn's appearance.
Peter Frei
Read also: Lake Siog and the cyanobacteria.


Posted on 8 May 2010, 01:04 - Category: The Town Common
Comments - Edit - Delete
You may don't know her name but you know her friendly face; she was one of the two ladies at the table where you would check-in and get a paddle at the town caucus and other town meetings. She also gave a helping hand to Kristin LaPlant in the town clerk's office. Janice past away last Sunday May 2, 2010.
Residents living around the lake are familiar with the daily boat rides she took with her long time friend of 50 years, Mary B vandenBerg. The couple lived together on 27 Hamilton Drive.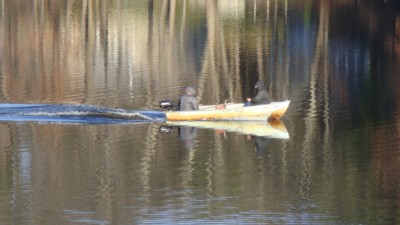 The picture on the right shows the couple all bundled up on their last boat ride for the year 2009 on December 12.
Peter Frei
Janice Vera Swenson
born October 2, 1925 in Maplewood, New Jersey to Robert M. Swenson, Sr. and Vera (Thulander) Swenson, died Sunday (May 2, 2010) at home in Holland, Massachusetts. She is survived by her long time friend of 50 years, Mary B. vandenBerg; her nephew Ralph M. Swenson III, of Burlington, Vermont; her niece, Siri S. Marshall of Minneapolis, Minnesota; and her sister in law Margaret Swenson of Barrington, Rhode Island. Dr. Swenson earned the bachelor of arts degree from Douglass College, the Master's of Social Work from Columbia University School of Social Work, and the Doctor of Philosophy degree from the University of Connecticut. She served as the Executive Director of the Connecticut Valley Council of Girl Scouts, then became Professor of Sociology at Southern Connecticut State University. Following retirement from SCSU she worked seasonally for the U. S. Department of the Treasury in income tax preparation. After moving permanently to Holland, MA, Janice served the community as Registrar of Voters and as a member of the Holland Finance Committee. Jan enjoyed daily boat rides on the Hamilton Reservoir, adventure van travel from the Panama Canal to the North Slope of Alaska and many places in between. She always provided a loving and safe home to rescue dogs, and was renown for her quick wit and snappy lines. She has donated her body for study to the Medical School of Tufts University. Anyone wishing to make a memorial donation in her honor is invited to make a contribution to the charity of the donor's choice. To leave an online condolence,
click here!
Posted on 5 May 2010, 19:12 - Category: The Town Common
Comments - Edit - Delete
Time to celebrate.....
The Holland Blog went online for the first time at 13:30 hours on Saturday February 14, 2009. Last Monday night, the Holland Blog was viewed 200,000 times (page views or hits).
I would like to share one of my favorite YouTube videos with the readers of the Holland Blog to celebrate this special occasion:
A tribute to our founding fathers produced by
Soomo Publishing.
Posted on 26 Apr 2010, 21:41 - Category: The Town Common
Comments - Edit - Delete
If you have not mailed in your 2010 census form, today is your last chance to do so (I'm sure that they will still take it if you mail it tomorrow).
The task of processing the huge amount of census-data has an interesting story.
Back in 1890 the census data was first counted and analyzed utilizing "modern" data processing. Ten years earlier, Herman Hollerith worked on the 1880 US census to make a few dollars. He just received a degree in Mine Engineering and could not find employment in his line of work. The counting of the date was a laborious and error-prone operation that cried out for mechanization.
For the next 10 years, Hollerith worked on his invention and won the competition for best machine to process the census-data to be collected in 1890.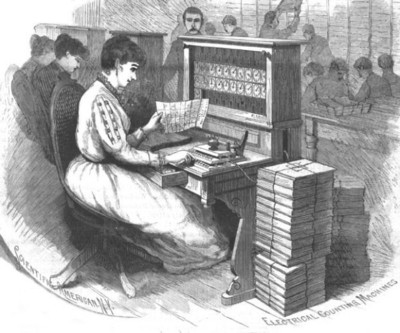 His machine utilized punch cards, measuring 3.25 by 7.375 inches, the same size as the dollar bills at the time. (US banknotes were reduced in 1929 to their present size.)
This was the first wholly successful information processing system to replace pen and paper, and reduced a seven-year job to three months. Yes, that's how long it took in 1880, and for 1890 it was projected to take 13 years!
Hollerith is considered the father of digital data collecting and processing.
Hollerith's machine saved the 1890 taxpayers five million dollars, and earned him an 1890 Columbia PhD.
Hollerith started his own business in 1896, the Tabulating Machine Company, which was also in charge of tabulating the date for the 1900 census. In 1900 Hollerith's automatic mechanism to feed the cards allowed an even faster processing of the data. In 1911 the Tabulating Machine Company merged with three other companies and formed the Computing Tabulating Recording Corporation, or CTR. In 1924, CTR was renamed and became International Business Machines, or our familiar IBM.
Hollerith can also be looked at the founder of IBM.
Peter Frei
Posted on 16 Apr 2010, 13:16 - Category: The Town Common
Comments - Edit - Delete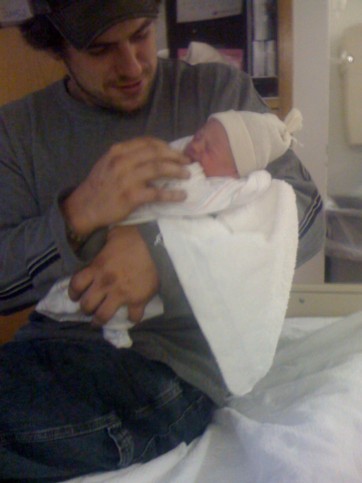 Geri-Jean Twining and Michael LaMountain became mother and father of a healthy 6 pounds and 1 once baby boy. They already have a name for the newborn; they call him Michael James LaMountain Jr.
Little Michael James measures already 18 inches and was born yesterday April 13, at 5:08 p.m.
The couple had a good reason not to be at the caucus last night.
Peter Frei



Posted on 14 Apr 2010, 00:34 - Category: The Town Common
Comments - Edit - Delete
THE SENIOR HOUSING HEARING WILL BE ON APRIL 21, 2010 AT 7:30pm AT THE TOWN HALL. THE ORIGINAL DATE WAS APRIL 6, 2010.
Peter Frei
Posted on 6 Apr 2010, 12:01 - Category: The Town Common
Comments - Edit - Delete
In case you missed
these photos
in the NY Times Sunday Magazine... That's the results of seven years of madness. The Iraq War began its 8th year this weekend.
Peter Frei
Posted on 23 Mar 2010, 10:30 - Category: The Town Common
Comments - Edit - Delete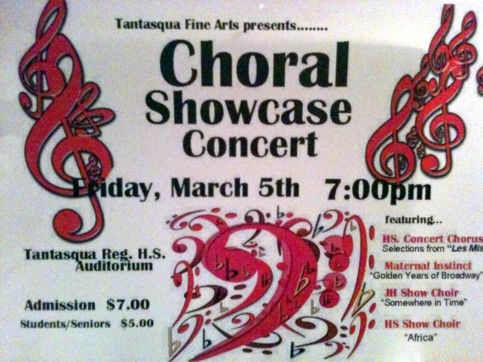 If you don't have any plans for tonight, Tantasqua Fine Arts presents the Choral Showcase Concert at 7 p.m. at the Tantasqua Regional Highschool.
Click on picture to enlarge for easier reading.
Posted on 5 Mar 2010, 9:34 - Category: The Town Common
Comments - Edit - Delete
The Holland Blog is celebrating its first Anniversary and reflects on a very successful first year.
Read about how this Blog works, who the readers are, which piece was read the most, the Blog's achievements, and what the goals for the future are.
For the first time, the Holland Blog shares Google's Analytical Reports about the traffic to the blog; it will surprise you who among the readers are!
Read more»
Posted on 4 Mar 2010, 00:01 - Category: The Town Common
Comments - Edit - Delete
Pages: ... [11] [12] [13] [14] [15] [16] [17] [18] [19] [20]